Mens sana in corpore sano is a Latin phrase, usually translated as "a healthy mind in a healthy body".
We want to help you get that healthy body so that your mind can get healthy at the same time. Therefore, we are proud to introduce you to Quintin Santiago, Windmill Wellness Ranch's on-site Personal Trainer and Fitness Consultant.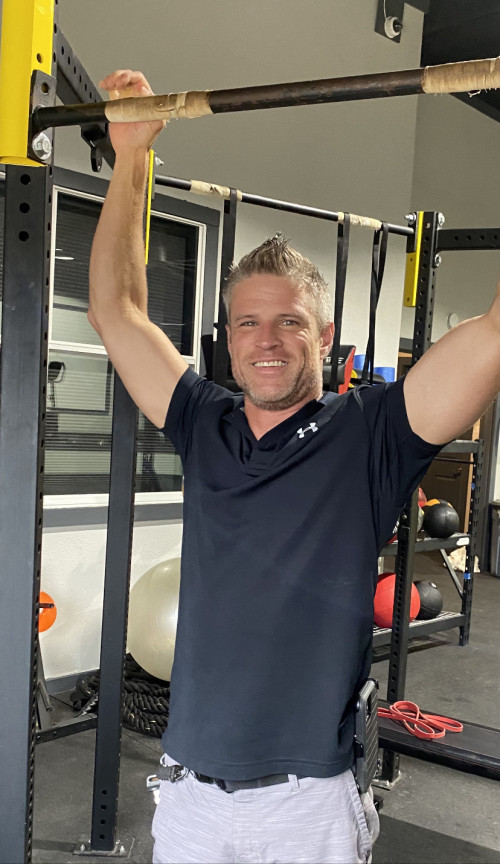 Aloha Spirit: To interact rightfully in the natural world. "Aloha" means harmony, helpfulness, humility, and unity. More than a greeting, it is a way of life.
"I was raised by my Father and Mother, a product of two worlds. My mother is a southern Texas woman with strong home values, and my father, a Hawaiian man born on the Island of Oahu. Between the two I learned the importance of having a healthy balance in life. My name is Quintin Santiago, CPT, GFI, CNC, and I am here to help you attain that balance.
Sports and Fitness have been a way of life for me since I can remember. My father was adamant to keep myself and my siblings engaged in some type of sport growing up. He said that "athletics" as he called it, was a healthy way to grow up, that team sports taught discipline, contact sports taught respect, and hard work cleansed the mind. At a young age I discovered Taekwondo, Football, and Track. These 3 sports would carry my young mind and body until I reached adulthood. I joined the Navy as a young man and served for 5 years active duty. When I discharged from the Navy I felt almost lost in my way. So, I decided to pick up Martial Arts again, where I studied, Muay Thai, Submission Wrestling, and Krav Maga. It was not until then that I realized the true importance of keeping an active lifestyle. As I got into my 30's I became a Krav Maga instructor and found my love for teaching. Not too long after that I decided that I wanted to help people get into the best shape of their lives and took the leap into personal training. I am now a Certified Personal Trainer, Group Fitness Instructor and Certified Nutrition Coach.
My goal at WWR is give you the tools that you need to attain the highest peak of physical fitness as you can. I will motivate you, help you, and sweat with you to get this done. Calm mind, strong body, steady soul; and true balance within nature will be conceived"